If you're a business owner or a facilities manager in Salt Lake City, look no further than United Fence Co. for your commercial fence. Salt Lake City businesses have relied on us for fencing for decades, and so should you.
Chain Link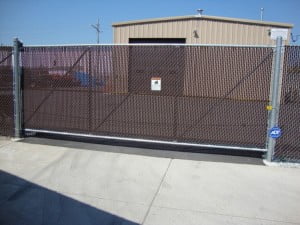 Chain link is a very popular choice for commercial fences in Salt Lake City, due mainly to its versatility, durability, and low cost. The average commercial chain link fence is 6 to 10 feet tall. Depending on your location and need or desire for privacy, you can choose whether to add privacy slats to make your fence more impermeable. A chain link fence around your business will deter most vandals or thieves, securing your business investment. These fences will also delineate property boundaries, which can be important if your business is adjacent to another business on one or more sides.
Chain link is one of the most versatile fences there is. In addition to securing buildings, it can secure parking lots, impound yards, and material storage yards. Chain link can be used indoors to create cages for parts or animals, kennels, or other divisions. Chain link can divide your work space, keeping people out of dangerous manufacturing areas. It can also be used for athletic fields, including baseball fields or basketball and tennis courts.
At United Fence Co, we are experts in installing chain link fence. Over 80% of our business comes from installing chain link fences n both commercial and residential applications. Our experience with this long-lasting fencing material is evident in our mastery of its installation.
Ornamental Steel and Aluminum
Combine strength with style by choosing ornamental steel or aluminum for your perimeter fencing needs. These attractive fences are strong, and are able to withstand hits from cars or power equipment. These fences are sealed against weathering, which adds to their longevity. Aluminum is naturally resistant to corrosion, making it very low-maintenance. Ornamental steel or aluminum would make an excellent commercial fence for your Salt Lake City place of business.
Vinyl Fencing
Vinyl fencing is the perfect solution for hiding unsightly items that must be present at your place of business. Because it offers total privacy, vinyl fencing is good for use in dumpster enclosures, or for hiding and protecting mechanical equipment. This fencing is commonly white, but is also available in tan, gray, clay and almond. Because it is a type of plastic, vinyl fencing requires no staining or painting, and is virtually maintenance-free.
The United Fence Co. Promise
When you chose United Fence Co. to install a commercial fence in Salt Lake City, we stake our name on the quality and longevity of the service and products you receive. That's why we offer a ten year warranty on parts and labor with every chain link fence we install and one year on all other fence types. We want you to love your fence as much as you love your business, and we promise to work hard so that you will. Whether it's time to install a fence for the first time, or to replace a broken-down or unsightly fence, call us today to experience the United Fence Co. difference.